A quick dive into how health is the foundation of every other aspect of life and how to become attuned to your energy and self-care needs.
I was doing my monthly reflection and review, and I realized that taking better care of myself and my health had been the last item, and therefore, the last thought on my list. Why is taking care of ourselves such an afterthought? Why is it seen as weak or unimportant when, in actuality, it is the most important thing. I had other areas of focus on my list. I want to develop better interpersonal communication skills. I want to work on networking and professional development to become a better blogger and writer. I also want to find more time to read leisurely and to study poetry. However, it would be difficult for me to truly focus on any one of these things if I am not prioritizing my health.
To be fully present and to work effectively, one should be in her best possible mindset. Our minds cannot function optimally when we aren't well-rested, fed, or sheltered. For example, if I don't sleep well, I don't notice things as well as I should. I don't pick up on the same social cues that I should. Recently, a colleague had asked me what was going on with me. On three hours of sleep, I had interpreted this as "what's going on with your work?". Hours later, I realized that she was just trying to have a casual conversation with me instead of directly jumping into business. My delayed understanding of conversational subtext may have been avoided if I had been well-rested.
Just as sleep is important, so is nutrition. Poorly managed nutrition can reduce productivity and undermine presence. If I feel too hungry, my attention consistently shifts to food: what should I eat next instead of my present reality (e.g., the demands of a task or the details of a conversation). I can easily get distracted by thinking of what's in my pantry or my fridge. My mind might drift to snack ideas or online delivery. In other words, on a poor diet, my mind can get cluttered with distraction after distraction, severely impacting my focus.
Similarly, an especially important aspect of health is the organization and security within the environment. As someone who experiences a mild form of anxiety, order and autonomy in my environment are important for me. However, no one likes to be in a space that makes them feel uncomfortable. It does not feel good to be in a space that is particularly chaotic with items thrown about and questionable safety precautions. Personally, I view my apartment as my safe place where I know that I can feel secure and think freely. As tidying expert, Marie Kondo, has said "everyone needs a sanctuary." Feeling comfortable in my environment and being able to set it up in a way that serves me, helps me to be able to think freely (see this article for more on this idea).
This is all to say that I would not be effective in any one of any area of focus without prioritizing my health. We have to make a conscious effort to optimize the aspects of our bodies and our environments that are under our control. I hope that this article serves as a gentle reminder to prioritize yourself and to be more present in every aspect of your life.
How Can We Remember to Prioritize Ourselves?
We have to keep in mind that we can only give what we have. If we have no energy for ourselves, how can we pursue our passions or be of service to others? Simply put, we can't.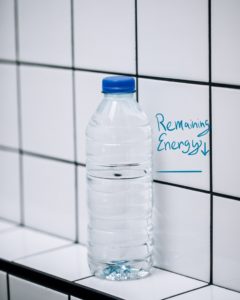 I like to think of my energy as water. Imagine a 16 oz bottle of water. It can be replenished, but it houses a limited storage of energy. Every activity that I engage with takes up some of this limited energy storage. Some things take more energy than others. For example, my day job can take a considerable amount of my energy. After a a typical work day, at least half of my water bottle is depleted, leaving me with just 8 oz. Writing, in comparison, takes very little energy. It may cost me about an ounce on long writing days. On casual writing days, it could even give me energy. For the sake of this example, let's say that I'm down to 7 oz from my day job and an afternoon of writing. If I spend time chatting with family and handling personal problems, that's more energy taken away (-5 oz). Now, if I only have 2 oz of energy left in a given day, I have to be mindful about that energy. Where does it go? Where can it go? Is it time to stop for the day and give myself time to recharge and replenish?
This is an assessment that should be done when taking on any task at any point of the day. We should ask ourselves: how much energy will this require, and how much do I currently have? If we try to take on more than we're equipped for at the given moment, we can't be fully present at that time, and therefore, should not be taking on that task. For instance, I have sometimes cancelled meetings if I can't truly engage with the person whom I'm scheduled to chat with. When we're near empty, sometimes we need to recharge instead of engage. There have been times where I've decided that I need a nap instead of a morning run if sleep was lacking from the night before. These intuitive, in the moment, decisions are about health, energy, and presence. The short answer for how to remember to prioritize ourselves is to become attuned to our energy and learn to be mindful about ourselves.